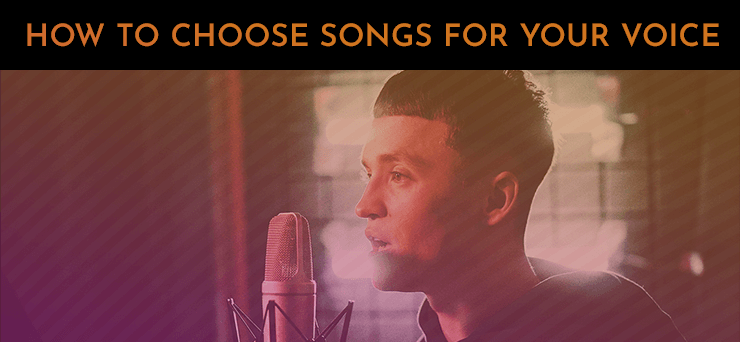 By Camille van Niekerk
A few weeks ago, I came across this video of Alicia Keys and Billie Eilish performing "Ocean Eyes." Many commenters have already noted that Alicia does not sound her best on this song. But why? Alicia Keys is a professional vocalist - can't she sing anything?
That brings me to the topic of this post: how to choose a good song for your voice. Alicia Keys is incredible within her style, just as Billie is incredible within hers. You truly can't compare them, nor should you ever have to! They have unique voices with different strengths, and they've both found their wheelhouse.
What about you? Do you know which songs and styles are a good fit for your voice? Read on for some tips to help you on the journey of finding out!
The easy way
If you're a true beginner, here's the easy way:
1. Choose a song you like.
2. Sing along with the original artist to learn the melody.
3. Check to make sure you're singing the correct pitches with Smule (or another karaoke app with pitch analysis).
4. Record yourself and listen back.
If you were able to match the pitch, general tone and style of the original, that song is a good fit for you! You can increase your chances of picking a good song easily by choosing a singer whose voice type (soprano, mezzo, alto, tenor, baritone or bass) is similar to yours. Those classifications aren't used as strictly in pop and contemporary music, but you should still be able to find a singer's voice type online and see if it matches your own! If you don't know your range or voice type, keep on reading.
Determine your vocal range
First, we're looking for your lowest comfortable note and your highest comfortable note. You can determine your range at https://singingcarrots.com/tuner or http://www.myvocalrange.com/yourvocalrange.php. You can also use the range function on the SingSharp app.
Read more about determining your range here.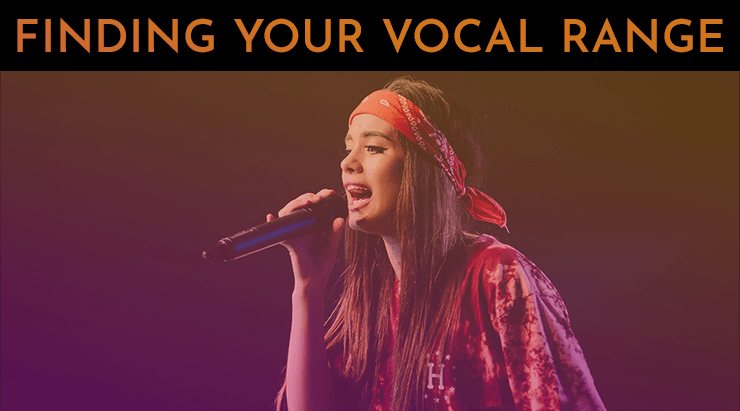 Where's the break?
In addition to your current "singable" range, take note of where your passaggio is: that's the pitch or range in which your voice transitions or "hands over" from one register to the next. For most singers, this will present itself as a "crack", "yodel", or "break". Locating your passaggio will help you realistically choose songs based on your desired tone and registration.
For example, the melody of "Shallow" (A Star is Born) contains a low G3 and a high D5. This may be within your overall range, but that's not the only consideration. You also need to know how those pitches sound (in the original), and whether you can recreate a similar sound. Lady Gaga is singing that D5 with a strong "mixed" coordination, so it sounds more like chest voice. Many singers can easily sing a D5, but they may only be comfortable singing that pitch in head voice, which naturally has a lighter, brighter tone than chest or mixed voice.
I can't belt that high note. Am I doomed?
A song requiring a high belt (in either chest or mixed voice) is very challenging, and beginning singers can easily hurt themselves trying to push for those high notes. If you're in this boat, you have a few options:
1. Search for a lower karaoke track (as long as you can hit the low notes in the new, lower key)
2. Use different registration than the original (for example, use head voice instead of belting and make it a stylistic choice)
3. Put this song on the shelf (for now) and choose an easier one!
Once you've developed mixed coordination, you won't need to work around your passaggio quite as much. But for a beginning singer, it's stressful to constantly be crossing that register break, and you can easily get discouraged when the original artist sounds a certain way and you can't yet achieve that same sound.
If you want to avoid shifting between registers until you've built your "mixed" coordination, choose songs with a smaller range so you can sing the entire melody within one vocal register. See below for a list of recommended songs!
Songs with a range of approximately one octave
Note: a few songs on this list technically span a ninth (or an octave plus one whole-step), but they will still be doable for most beginning singers. Change the key as needed to suit your voice by looking for an existing track on YouTube (search "higher", "lower", "male key", etc) or purchasing a customized karaoke track at Karaoke Version.
"Ain't no sunshine" (Bill Withers)

"All Star" (Smash Mouth)

"All the small things" (Blink 182)

"Angel from Montgomery" (Bonnie Raitt)

"Bad Moon Rising" (Credence Clearwater Revival)

"Bubbly" (Colbie Caillat)

"Chasing Cars" (Snow Patrol)

"Da Doo Run Run" (The Crystals)

"Drops of Jupiter" (Train)

"Eight Days a Week" (The Beatles)

"Fields of Gold" (Sting)

"Girls just wanna have fun" (Greg Laswell cover, originally by Cyndi Lauper)

"Happy" (Pharrell Williams)

"Heart of Gold" (Neil Young)

"Hey Jude" (The Beatles)

"Hotel California" (Eagles)

"I can see clearly now" (Johnny Nash)

"I guess I just feel like" (John Mayer)

"I love rock n roll" (Joan Jett)

"I will follow you into the dark" (Death Cab for Cutie)

"I'm Yours" (Jason Mraz)

"I've just seen a face" (The Beatles)

"If I ever leave this world alive" (Flogging Molly)

"Let Her Go" (Passenger)

"Let it go" (James Bay)

"Losing my religion" (R.E.M.)

"Love yourself" (Justin Bieber)

"Make you feel my love" (Bob Dylan)

"Mamma Mia" (ABBA)

"Mr. Brightside" (The Killers)

"Riptide" (Vance Joy)

"Say my name" (Destiny's Child)

"Shotgun" (George Ezra)

"Should I stay or should I go" (The Clash)

"Sittin on the dock of the bay" (Otis Redding)

"Take it on the run" (REO Speedwagon)

"Take me home, country roads" (John Denver)

"The Middle" (Jimmy Eat World)

"This is the life" (Amy Macdonald)

"Wagon Wheel" (Darius Rucker)

"Walk the line" (Johnny Cash)

"Wind of Change" (Scorpions)

"You belong to me" (Carla Bruni)

"You know I'm no good" (Amy Winehouse)

"Your heart is as black as night" (Melodie Gardot)
For song suggestions within your range, visit SingingCarrots.com.
Establish a few "tonal models"
Which artists can you sing along with most easily? Those singers can serve as tonal models for you, as you develop your tone and style. You may struggle to think of singers you sound like - but keep that question in mind as you listen to different artists, and take note of those that feel like a more natural fit than others! Listen for singers with (1) a similar range to yours and (2) a tone quality that's easy for you to recreate. Look through their song lists when searching for new songs to learn, and explore similar artists on Spotify/Pandora.
Some love for low voices
Many beginning singers struggle with the high notes they hear from singers like Adam Levine, Ariana Grande, and Brendon Urie. These singers, in addition to having years of training and well-developed mixed coordination, have naturally higher ranges! See below for some fantastic lower-voiced singers, if you are an alto, baritone, or bass.
Lower-voiced female singers:
Allison Moyet

Amy Winehouse

Annie Lennox

Diana Krall

Dua Lipa

Etta James

Fiona Apple

Grace Jones

Helen Shapiro

Janis Joplin

Joan Jett

Karen Carpenter

Lalah Hathaway

Lana Del Rey

Miley Cyrus

Nina Simone

Peggy Lee

Shakira

Shania Twain

Stevie Nicks

Toni Braxton

Tracy Chapman
Lower-voiced male singers:
Anthony Kiedis (Red Hot Chili Peppers)

Barry White

Beck

Bing Crosby

Bruce Springsteen

Cat Stevens

Darius Rucker

David Bowie

Dean Martin

Eddie Vedder

Elvis Presley

Frank Sinatra

George Ezra

James Blake

John Fogerty (Creedence Clearwater Revival)

John Legend

John Lennon

John Mayer

Johnny Cash

Luther Vandross

Matt Berninger (The National)

Michael Buble'

Mick Jagger

Randy Travis

Ringo Starr

Serj Tankian
And finally, if you're a higher-voiced female singer who doesn't belt, see below for some sopranos who use a lot of head voice in their sound:
Alison Krauss

Ashanti

Aurora

Billie Eilish

Birdy

Björk

Blossom Dearie

Ellie Goulding

Ingrid Michaelson

Joan Baez

Kate Bush

Lily Allen

Regina Spektor

Tori Amos
Finding your "wheelhouse" takes time and a lot of experimentation! Listen to music from different genres and eras, and find the styles that help you sound and feel your best when you sing.
---